in the mezzanine gallery
STEPS Art Education Program Instructor Exhibit: The Art of Jan Fischer, Melody McConaughy and Paul Walter
October 15 – November 14
MEET THE ARTISTS DURING PRESCOTT'S 4TH FRIDAY ART WALK AT 'TIS
OCTOBER 23rd 5:00 – 7:00 pm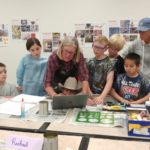 Jan Fischer has a degree in fine art and advertising design. She worked as an art director for years. In 1993 she opened her graphic design company, Red Willow Design, specializing in helping start-up companies translate their new products and services into a visual presence in their markets. Creating a full spectrum of commercial art and design needs. Now retired, she is enjoying plein air and in studio painting.
Jan has taught kids her who life, skiing, swimming & her favorite…art.
The foundation of Jan's work is the interplay of shape and color in an eye-catching and engaging style that is lively and playful.  Her designs range from simple to sophisticated, funky to formal.
Reclaimed, recycled, reinvented, recreated: the playful artworks of Melody McConaughy are brashly expressive in the authenticity of their materials. Weathered, rusting and rugged, gracefuly-aged elements survive to keep the west alive.
Melody unearths the remnants of a culture known for it's spirit and independance to create one-of-a-kind sculptural works.
Prior to becoming a professional artist, Melody taught children in the public school system and went on to become a school principal. She has been teaching at 'Tis since 2011 and has been instrumental in the development of the STEPS Art Education Program for Children
 Paul Walter: The aesthetic focus of my work has two main components: representation and emotional content.  The two aspects are equally important, and the pieces that I consider the most successful have both these components.  Not always in equal measure; but in proportion to realizing the ultimate goal of the artwork.  Often as I work I might sacrifice one for the other to achieve an effect that allows me to push the image in the desired direction.  Work by other artists which has the greatest impact on me has both these aspects.
The first of these two components, the direction of the work, has from the beginning been towards representation.  In my early twenties, I began to study art in a serious manner, and representational art always appealed to me more than extreme abstract or nonrepresentational work.  Shortly after I entered university, I discovered sculpture and changed the emphasis of my work from two dimensional art to three dimensional art.  However, the focus remained representational, even as I experimented with different styles of work in the course of my studies.  It should be noted however, that even the most hyper-realistic work of art is still an abstraction in the purest sense of the word: it is ultimately an image, and may not be confused with the actual object that it endeavors to represent.
The second of these components is emotional content.  It not possible for me to produce a quality image which does not have some emotional content, no matter how accurate the representation.   The image might be technically correct, but without an emotional link, it will be at best sterile, i.e. perhaps mechanically well done, but without feeling.
Maintaining a balance of these two aspects has been, and continues to be, central to my work.