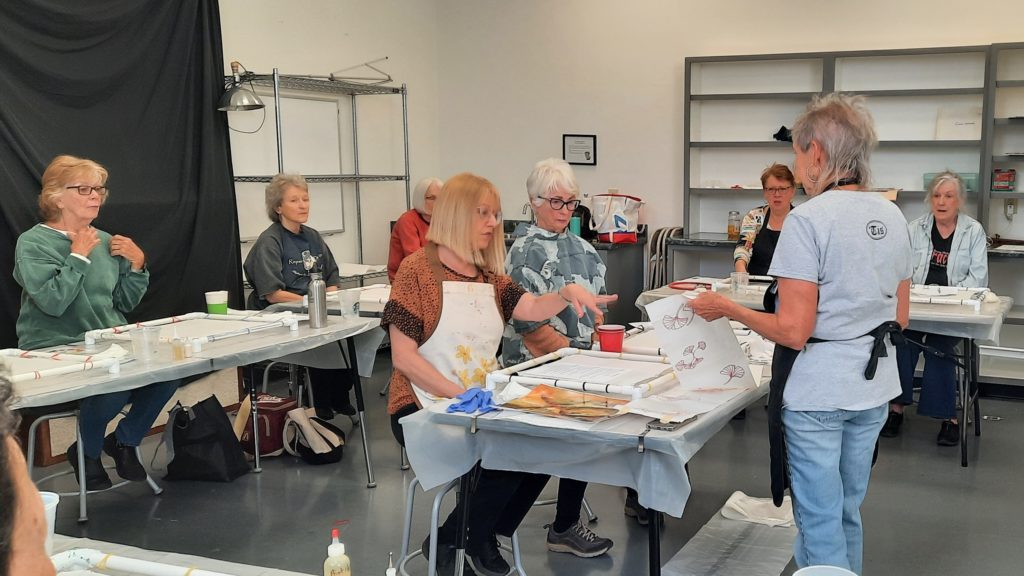 The 'Tis Annex Art Education Building
235 N. Marina Prescott, AZ 86301
Ongoing Art Classes for Adults
Oil and Acrylic Painting with Neil Orlowski 
Thursdays 10:00 – 1:00
Ongoing weekly ~ Join any time. Improve and expand your art vision and techniques. Students of all levels are invited work on independent oil or acrylic paintings projects where Neil in there to guide them towards achieving their desired goals. $35. per three hour class
cancellations must be made within 24 hours Contact Neil to reserve your space (928)-642-8018 neil.orlowski@yahoo.com
Acrylic Painting with Mercie Marshall 
Saturdays 9:30 a.m. to 12:30 p.m.
Beginner to Intermediate Ages 13+ $35. per 3 hour class session $125. for four days Contact Mercie to reserve your space
Call (928) 848-6144 Email: merciek94@gmail.com
Art Projects with Laura Brearley
Select Wednesday Evenings 6:00- 8:00 p.m.
for all ages and experience levels $30. per 2 hour session $25 per session with prepay for four sessions. Supplies and student grade paint provided /  $5. discount if you choose to bring your own paint Contact Laura for details and to reserve your space.
roadtripstudiossw@gmail.com
Cookie Decorating with Michelle Ware
Learn cookie decorating techniques with self proclaimed sugar artist, Michelle Ware of the Devil's Food Cakery
Once a month on select Saturdays 2:15 – 4:15
December 3,2022
January 21, 2023
February 11
March 11
April 8
May 20
Text or email Michelle for price and details (928) 600-4564 devilsfoodcakery@gmail.com 
Ongoing Art Classes for Young Adults
The Fundamentals of Art with Gail Brendle
Immersive explorations in various mediums, topics and art history for ages 12 – 16  
Fridays 3:45 a.m. – 5:15 p.m.
 $30 per class Text or email Gail to reserve space. (805) 636-6728
brendlefineart@yahoo.com

'Tis Annex Classroom Rentals
Featuring three classroom accommodations for 12  students: Two regular classroom spaces with single sink areas and one ceramic studio room with two sink areas and a kiln.
All classrooms are furnished with adjustable tables, chairs and free Wi-Fi. Classroom rentals include the use of the break room furnished with a full sized refrigerator, sink, coffee maker and microwave.
For small children: Child sized chairs are available for a 12 student class.. The sink areas in the restrooms are furnished with Step Up for Kids step stools.
Single Classroom Rates:
$15. Per hour (two hour minimum)
$30. non refundable reservation deposit (applies to total rental fee)
$200. refundable damage deposit
Reservation deposits and signed contracts are required to hold date and time. Rates are subject to change. See contract for additional conditions.
Kiln Firing:
Rates- $25 per firing (under supervision of 'Tis Annex staff. Contract not required.)
Call or e-mail us 928-776-1087 / tisartsteps@gmail.com
Special thanks also go to The Art Store and the Frame & I  for their proactive support of art education in the Prescott community.