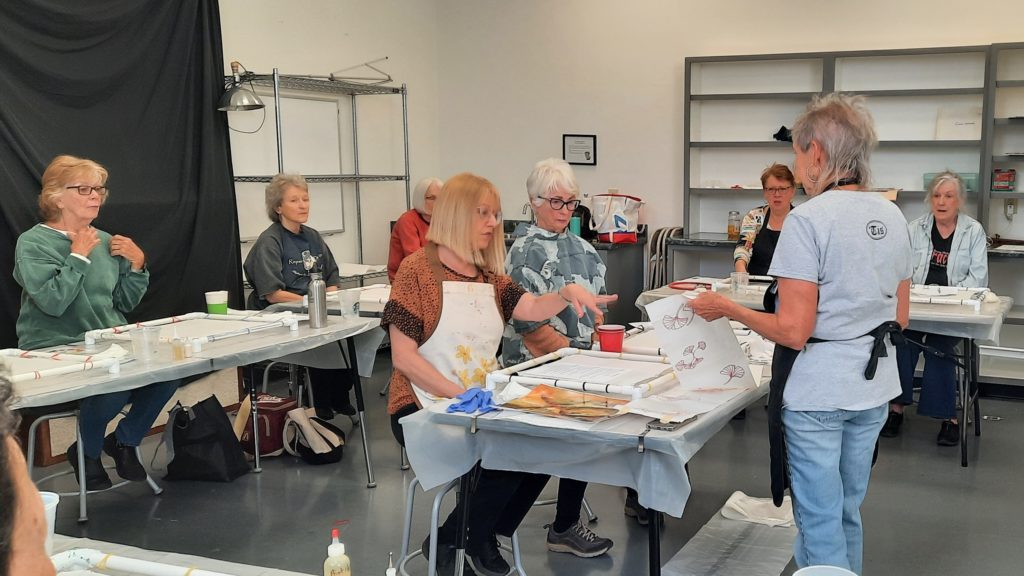 The 'Tis Annex Art Education Building
235 N. Marina Prescott, AZ 86301
"Discovering Your Inner Muse with Collage"  Workshop with Jeannie Mehl
 Saturday, September 30th
1:30 – 4:30 PM
Do you feel intimidated by drawing classes, unsure of how to get
started with art projects, or just need some new creative ideas? Then
Collage' (glueing together an assemblage of different forms) is a great
place to start! What we have lying about could make for a meaningful
art piece: pamphlets, ticket stubs, lace, copies of photos, buttons,
magazines, old book pages, inspirational sayings and tissue paper are
just a few ideas. A collection of materials will be provided and a short
list of what to bring to the class will be sent upon registration. We are
recycling so no need to buy expensive art supplies!
Limit 12 creators for a 3 hr class, $55.
Contact Jeannie Mehl for more info and to reserve your space.
jmehl39@gmail.com ( 928)778-7958
Ongoing Art Classes for Adults
Oil and Acrylic Painting with Neil Orlowski 
Thursdays 10:00 – 1:00
Ongoing weekly ~ Join any time. Improve and expand your art vision and techniques. Students of all levels are invited work on independent oil or acrylic paintings projects where Neil in there to guide them towards achieving their desired goals. $35. per three hour class
cancellations must be made within 24 hours Contact Neil to reserve your space (928)-642-8018 neil.orlowski@yahoo.com
Acrylic Painting with Mercie Marshall 
Saturdays 9:30 a.m. to 12:30 p.m.
Beginner to Intermediate Ages 13+ $35. per 3 hour class session $125. for four days Contact Mercie to reserve your space
Call (928) 848-6144 Email: merciek94@gmail.com

'Tis Annex Classroom Rentals
Featuring three classroom accommodations for 12  students: Two regular classroom spaces with single sink areas and one ceramic studio room with two sink areas and a kiln.
All classrooms are furnished with adjustable tables, chairs and free Wi-Fi. Classroom rentals include the use of the break room furnished with a full sized refrigerator, sink, coffee maker and microwave.
For small children: Child sized chairs are available for a 12 student class.. The sink areas in the restrooms are furnished with Step Up for Kids step stools.
Single Classroom Rates:
$15. Per hour (two hour minimum)
$30. non refundable reservation deposit (applies to total rental fee)
$200. refundable damage deposit
Reservation deposits and signed contracts are required to hold date and time. Rates are subject to change. See contract for additional conditions.
Kiln Firing:
Rates- $25 per firing (under supervision of 'Tis Annex staff. Contract not required.)
Call or e-mail us 928-776-1087 / tisartsteps@gmail.com
Special thanks also go to The Art Store and the Frame & I  for their proactive support of art education in the Prescott community.